Our pool of big data services includes
Data Engineering
At CIS, we deliver all the bespoke big data solutions that resonate with your enterprise needs and helps you to capture the insights over the data and analytics processing.
Big Data Analytics
We help businesses to capitalize on the most productive big data analytics solutions that can comprehend with the current business requirements and concerns.
Database Management
Our actionable database management techniques help you to achieve the perks of the businesses by driving the information on the right route that can be easily accessible.
Business Intelligence
By infusing the intelligent algorithms, we help to transform the data into knowledge thus, empowering the overall decision-making structure.
Multi-System Integration
We chart out various distinctive frameworks that help to centralize the information routing from various zones and helps to align it as per the business requirements.
Big Data Visualiazation
We dig deep into the whole of the information ecosystem and make sure to present it in the most optimized and productive way.
Predictive Modelling
Under this category, we make sure to deliver the right paradigms that can help you make the correct decisions as per the different scenarios that can take place in the future.
Inferential Statistical Analysis
Inferential statistics use a random sample of data taken from huge manufacturing components to describe and make inferences about the product. Inferential statistics are valuable when examination of each entity is to be done.
So, here how we can assist you
What goes into developing a big data powered app?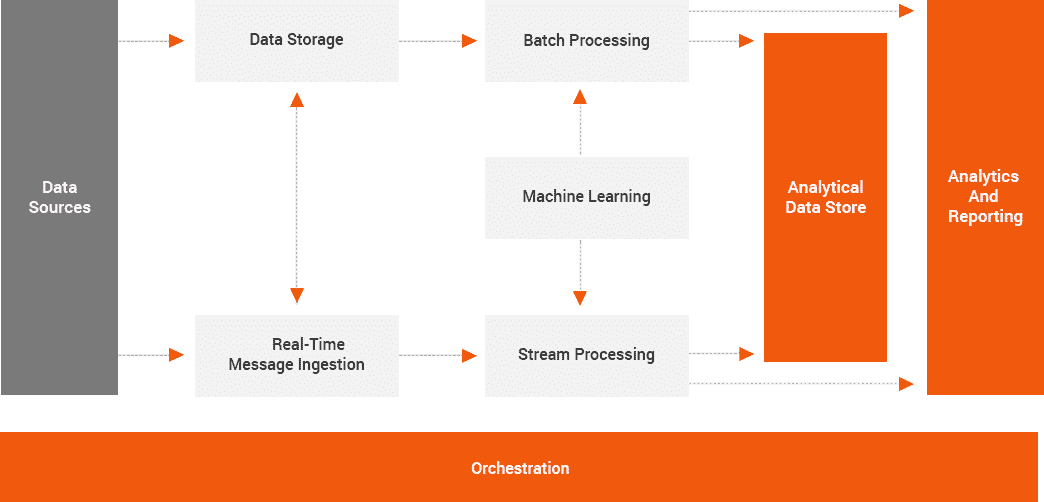 Our pillars of technologies
Storage and Big data cloud solutions
Amazon

Apache HBase

Apache Kudu

Apache Cassandra

DataStax

Clouddra
Database management
MySQL

PostgreSQL

MongoDB

Redis

Memcached

MSSQL

Neo4j Graph

AWS DynamoDB

AWS Redshift
BI and Big Data Analytics
Microsoft Power BI

Microsoft SQL Server Reporting Services

Oracle BI

Google Analytics
Report Management
Tableau

QlikView

Microsoft Power BI

Jasper Reports

Jasper Server

Google Data Studio