CIS for Robotic Process Automation
Software robots to automate rote tasks
Robotic process automation (RPA) is the cutting-edge and very promising offering of the robotic revolution. RPA refers to using a software robot to interact with business applications like CRM, ERP, help desk and other web applications by emulating the actions of the human user to complete specific tasks in these applications. However, RPA is more than just mimicking the way a human user interacts with these systems. It employs complex logic to manage system interactions, manage data and even handle exceptions by notifying the employee in cases where human intervention is necessary.
RPA can be used to automate the manual, repetitive tasks of business and drive greater operational efficiency. CIS offers optimized RPA solutions to streamline business transactions and bring greater agility into day to day processes. We help clients improve the productivity of their employees, reduce the operating costs and enhance revenues and profit margins. Free your employees from mundane, rule-based repetitive tasks and allow them to focus on more significant tasks with our RPA services. You can count on our expertise to help you as you incorporate digital workforce in your business.
Why CIS is the Right Choice
With CIS as your partner for Robotic Process Automation, you can progress faster towards achieving higher productivity and your core business objectives. We help in seamless integration of RPA technology with your existing technologies without causing any interruption in workflows. OUR RPA solutions can be used across a variety of business processes easily. Significantly reduce the manual effort and also the risk of manual error with our highly competent, cost-effective and flexible digital workforce solutions.
Improve productivity for day to day business operations.
Enable quick attention to deviations from regular patterns.
Achieve great improvements in quality by mitigating the risk of human error.
Liberating employees to focus on greater customer satisfaction and other significant tasks.
Flexibility to automate tasks for given time duration requirement.
Freedom to scale the digital workforce up or down as per changing business needs.
Receive analytics data to evaluate performance regularly.
Why Choose CIS for RPA
Collaborate with CIS to observe positive changes like to improve process efficiency, reduction in operational costs, enhanced accuracy and faster speed. CIS has the expertise, resources and capability to help you transition to a smart digital workforce. We employ state of the art robotic automation software and platforms to design a robust, scalable, flexible and intelligent digital workforce without causing any disruption to your critical work processes. Here are key benefits that CIS offers:
Economic Benefits
Cost Efficiency: Save significant money on labor costs by automating the tasks.
Greater return on investment: No excessive costs for integration or process redesign.
Scalable at minimal costs: Scale the software robotic workforce up at minimal prices.
Less rework costs: With more accuracy, you reduce the need for rework and hence related costs.
Operational Benefits
Operational Agility: Switch to automation for quick operational results.
Scalability and Flexibility: Liberty to quickly increase or decrease the size of your digital workforce.
Minimal human error: Experience new levels of productivity with reduced instances of manual errors.
Improve employee efficiency: Free your employees from mundane tasks to engage in valuable customer-oriented activities.
Security Ensured: Secure management of your business operations.
Strategic Benefits
Collection of valuable data: Gathers relevant information from tasks and helps in providing quick access to important data.
Business intelligence and analytics: Assists in data driven business decision making with useful data from the transactions.
Rejuvenate your work operations: Identify and remove operational deficiencies for smoother work processing.
Advantages of RPA
There are several benefits associated with using software robots for the rote tasks, that usually take up significant time of employees and incur operational costs as well. Software robots can work 24/7/365 bringing greater operational speed and faster business outcomes. It is very easy to scale the robotic workforce up and down depending on current business needs. You can always deploy additional software robots without incurring huge costs and provide training to all these robots simultaneously through the simple process of workflow creation.
With software robots taking care of the tasks, the scope of manual error is also reduced, thus improving the overall quality of the transaction flow. Moreover, these robots also provide performance data that includes information like number of transactions completed or number of deviations that were encountered by the robot. This way you can identify the problem areas and work out ways to streamline the process flow.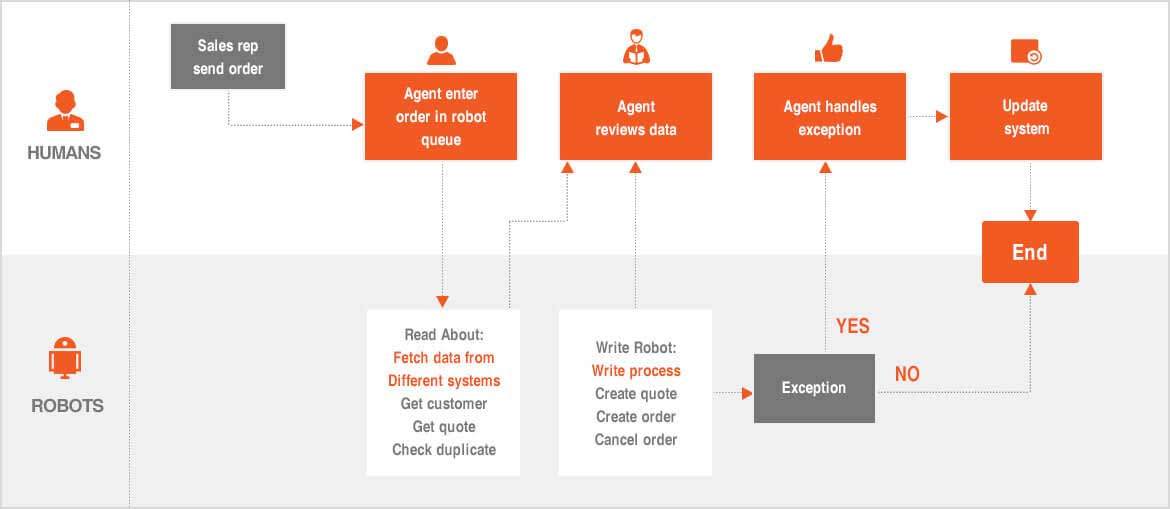 Robotic Process Automation RPA Services
SEE HOW CIS HELP IN ENTERPRISES SUCCESS
Client Success

I've outsourced my joomla CMS website development project to Cyber Infrastructure Pvt. Ltd. I would just like to thank you about the good works you done was really efficient and understand all the things we need, really great. We will come back for

I am glad to write a review for your capable team, you have onboard and I would like to mention another thing that your tecnology team are gold for your company. Thanks for everything. Soon we'll outsourcing more projects to you.

I've hired CISIN a while ago and I want to say that thanks for your help, everything is great & much appreciated. I'm always open to any design upgrades you may like to punt in future so feel free. I wish you peace & success in every sphere, thanks again.

I am a Research Director for a company in the UK which monitors company's customer service and provides feedback on their performance and shows benchmarking data for their continual improvement. With that background I am pleased to say that the customer service I received from you just now was excellent!

Super Work The application is better than I expected it to be. This was quite a fluid arrangement as I was not totally sure what I required, Abhi and the rest of his team were very patient and discussed all aspects of the project with me. Any changes I requested
JimMc
Scotland, United Kingdom

Did a great job, and in time asked for. The Parental control application I was looking was a single module in the final product. Very innovative with ideas and implementations. Thanks!
Leonard
North Carolina, United States

Very diligent and hard-working. When given sufficient information, were able to produce a good-quality product in a quick time. Would use them again.

Outstanding work even with some of the last minute changes they coded the program changes without any problems.
Rossk
New York, United States

Amit and team did a superb job, and did much more than they were required. Communication is very professional. Recommend these guys every time. I will use again.
Mike
Georgia, United States

Superb Communication will go the extra mile to please and best of all the quality of code is excellent! Thanks CIS!
Mark
Florida, United States

A+ coding yet again. CIS is quick to respond to bugs and even quicker to fix them. I really enjoy the professionalism and dedication of this team!

CIS did an excellent job on my project. I gave them a week to get it done and they got it done within 1 day! They are very knowledgeable and easy to get it touch with. I definitely plan to use them in the future.
RonnieO
Illinois, United States

Wow that took a long time and was complicated! Cis team did a good job in the end and thanks for your work.

Thanks! This is only the start. We are bound to do great things together.
COFFEE WITH CIS
It can reduce manual labor and save time. Although automation in healthcare was not widely recognized, the global pandemic that ravaged highly manual healthcare systems made it clear to medical professionals that RPA is needed. The industry....
→