CIS in Travel and Hospitality Industry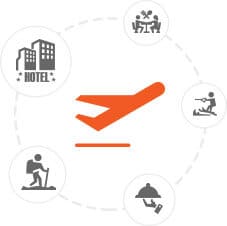 Proven Technical Expertise in Travel and Hospitality Industry
Our innovative and robust IT solutions for the travel, tourism and hospitality industry have helped our clients to keep up with the ever-rising expectations of their own customers. CIS has 12+ years of experience working with various leading clients in the industry. Our solutions make smart use of technology to resolve various complexities and challenges that are faced by travel and hospitality companies. Customized for your business, these solutions will bring simplicity and efficiency in business operations and help you deliver a superior experience to your customers.
Areas of Expertise In Transporation and Hospitiality
SEE HOW CIS HELP IN ENTERPRISES SUCCESS
Client Success

I've outsourced my joomla CMS website development project to Cyber Infrastructure Pvt. Ltd. I would just like to thank you about the good works you done was really efficient and understand all the things we need, really great. We will come back for

I am glad to write a review for your capable team, you have onboard and I would like to mention another thing that your tecnology team are gold for your company. Thanks for everything. Soon we'll outsourcing more projects to you.

I've hired CISIN a while ago and I want to say that thanks for your help, everything is great & much appreciated. I'm always open to any design upgrades you may like to punt in future so feel free. I wish you peace & success in every sphere, thanks again.

I am a Research Director for a company in the UK which monitors company's customer service and provides feedback on their performance and shows benchmarking data for their continual improvement. With that background I am pleased to say that the customer service I received from you just now was excellent!

Super Work The application is better than I expected it to be. This was quite a fluid arrangement as I was not totally sure what I required, Abhi and the rest of his team were very patient and discussed all aspects of the project with me. Any changes I requested
JimMc
Scotland, United Kingdom

Did a great job, and in time asked for. The Parental control application I was looking was a single module in the final product. Very innovative with ideas and implementations. Thanks!
Leonard
North Carolina, United States

Very diligent and hard-working. When given sufficient information, were able to produce a good-quality product in a quick time. Would use them again.

Outstanding work even with some of the last minute changes they coded the program changes without any problems.
Rossk
New York, United States

Amit and team did a superb job, and did much more than they were required. Communication is very professional. Recommend these guys every time. I will use again.
Mike
Georgia, United States

Superb Communication will go the extra mile to please and best of all the quality of code is excellent! Thanks CIS!
Mark
Florida, United States

A+ coding yet again. CIS is quick to respond to bugs and even quicker to fix them. I really enjoy the professionalism and dedication of this team!

CIS did an excellent job on my project. I gave them a week to get it done and they got it done within 1 day! They are very knowledgeable and easy to get it touch with. I definitely plan to use them in the future.
RonnieO
Illinois, United States

Wow that took a long time and was complicated! Cis team did a good job in the end and thanks for your work.

Thanks! This is only the start. We are bound to do great things together.
COFFEE WITH CIS
1. Login and Registration It is the most fundament part of the app. To start using it, you need to register as well as agree to the different conditions along with policies of the app. For custom app development services, it takes nearly 15 ....
→